*WWW PRINCES DIAMOND T
Registr:ABC 2990
Sire:*DCC Drifter
Dam:*Kiowa Beauty
Foaled:21. July 2001
Color:Black
Height:156 cm
Foals:*Sitara, *Andrea Memory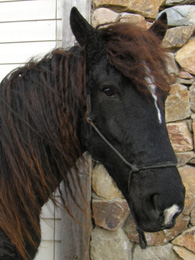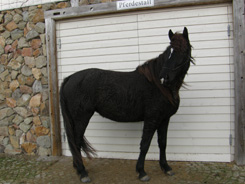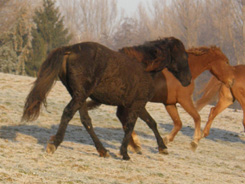 Our lovely friend and inspired Curly horse breeder Dr. Andrea Hempel specialized in gait horses. *WWW Princess Diamond T was imported from USA in the spring of 2007. She has won various pri- zes in the USA. Last May *Diamond had her first stallion foal *Sitara and her new happy owner is Mr. Peter Ventola.
*WWW Princess Diamond T has all the good qualities of a robust horse with lots of stamina which she is always showing through her motivation. All rounded, diligent, and in herself calm are just some
of her positive attributes. She has an unbelievable charisma with no objections. Those who would like to have it a little more comfortable can ride her the pace of the tolt!