*GW ANDREA MEMORY
Registr:DE 484859990508, ICHO and ABC possible
Sire:*Locken's Mangas
Dam:*WWW Princess Diamond
Foaled:09. Mai 2008
Color:brown
Height:now 143 cm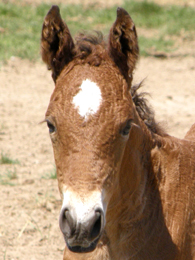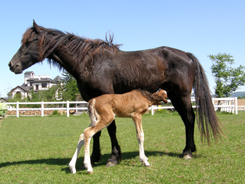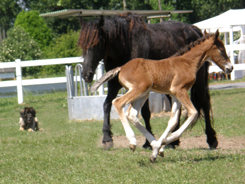 On the 9th of May the first foal of 2008 was born on Ranch Wolf.
It is the daughter of two gaited horses – WWW Diamond Princess
and Locken's Mangas. Right away as the foal started to walk you could tell that she inherited the gene of a gaited horse from her parents.
Our dear friend and Curly horse breeder Andrea Hempel had Dia- mond covered by Mangas last year. Sadly it was not granted to her to see how the foal would turn out. As a memory to the wonderful, emotional and unforgettable time that we spent together we named the new foal Andrea Memory.
GW Andrea Memory is a beautiful, healthy, nosey, curly mare foal. We enjoy watching her daily developments as she becomes faster and surer on her never ending long legs.