*GW FUNNY GOLIATH
Registr:DE 484850021108, CSI und ICHO möglich
Sire:Namaspamoos Passion Disadré
Dam:*Jondra DMC Funnyface
Foaled:13. July 2008
Color:brown
Height:now 137 cm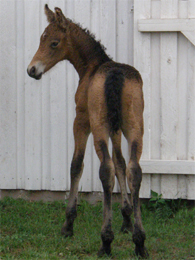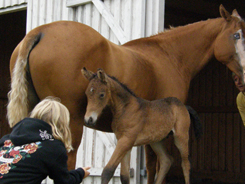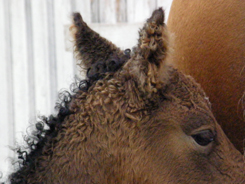 Goliath is something special. This black Frisian was the favorite horse of breeder Tom Wolf. He had to part ways with this horse because of his allergic reactions to it. Since the start of the hypoallergetic breeding of Curly horses Tom has dreamt of a Curly Frisian.
With little Goliath his dreams came true. His father Namaspamoos Passion Disadre; from Quebec Curly breeder Isabelle Checroune; is an impressive, expressive stallion with Frisian blood. He is registered by the Curly Sport International (CSI). The mother Funny Face is a homozygous mare.
Goliath is a very bright stallion foal with a lot of power. His build is very stable and his base similar to that of Funny Face. His dark colour, mane and tail all come from his father.