*GW BELLA DONNA
Registr:DE 484850246508, ICHO possible
Sire:*Teoc's Painted Levi
Dam:*Oakesmuir Spartaneighity
Foaled:24. Mai 2008
Color:sorrel
Height:now 146 cm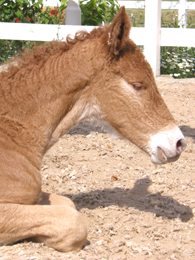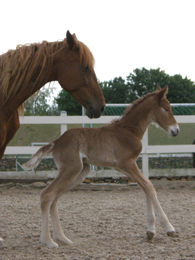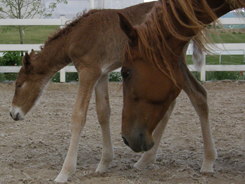 Exactly two minutes after midnight on the 25th of May 2008 GW Bella Donna = Beauty alias Bella Anna was born.
The granddaughter of the famous Spartacus as well as the second mare foal of our famous stallion Teoc's Painted Levi. She is the largest born foal on Ranch Wolf. Right away she found the milk source and drank. Only after three hours Bella Donna attempted to chew hay. Unbelievable!
On a wonderful Sunday morning GW Bella Donna showed us her affection for gallop. This she has kept until present day. Get up and ready to go!
It was fascinating to us how perfectly natural this horse is despite the domestication. In nature the strongest survive, the weak get eaten by wild wolves. She will stay as a private horse from Family Wolf. Our bundle of energy presents pride, long strides and demands time for cuddles from mom after her play time is over.