*GW LEVI'S AMOR
Registr:DE 484850279208, ICHO and CSI possible
Sire:*Teoc's Painted Levi
Dam:*Bit-O-Wy-Maehem
Foaled:13. July 2008
Color:sorrel
Height:now 146 cm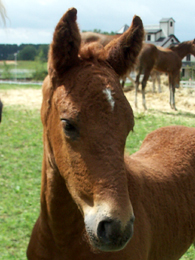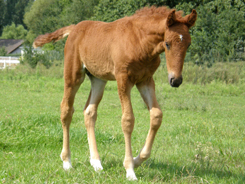 Amor is a foal from our very own Levi; whom is registered in the Stallion Book I. He is sold to Schottland. Congratulation!!!
He is a beautiful, elegant fox stallion, loveable, cuddly and he possesses a good portion of natural curiosity. These qualities are the best building blocks for a playful yet highly effective training basis. Amor has an expansive step, trot and a wonderful gallop with an enormous advance on his hind legs. His double sided mane has become famous and loved in the Curly scene.
Furthermore this foal has a curly coat structure and is very drawn toward humans. Another great quality about Amor is that he will belong to the largest Curlys in the world due to height.