*TALISMAN
Registr:ICHO 891-D, DE 498981163504; CSI C00537-04
Sire:*Troy
Dam:*Coleches Diamond
Foaled:01. May 2004
Color:Zebra dun
Height:160 cm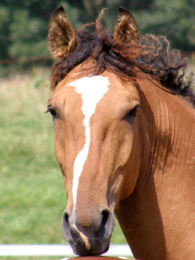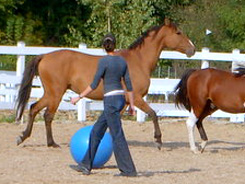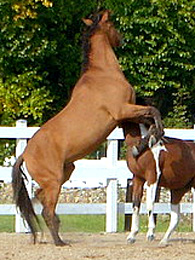 This lovely four years old gelding was for sale. Congratulations to Margret and Lars, we wish you both a lot of fun with Talisman. And we are looking forward to visit you. You are also every time welcome at our Ranch.
*Talisman was purchased last year as a gelding and imported from America. He has become a loyal companion to our two year old stallion *GW Spirit. Watching the two horses play together is just marvellous to observe.
*Talisman has already reached a size of 160 cm and therefore now belongs to the group of big Curly horses. He was given the award of prize foal by the Curly Sport International - CSI. He delights us with his native design and expression making him a glamorous horse with great learning potential. Other than the above he is very balance and holds a strong tie to humans.
*Talisman would be an ideal horse for ambitious young riders but thanks to his size he can also be ridden by grownups. We communi- cate with him through body language and ground work as a start for training.
This year *Talisman will be broken in. He has spirited, eye catching movements and from his structure he is similar to warmblood type.