*GW IMAGE'S ARAGON
Registr:DE 484855253307, ABC und ICHO possible
Sire:*Gabriel's Image
Dam:*WCC Blondes Carmalitta
Foaled:17. June 2007
Color:Palomino
Height:now 157 cm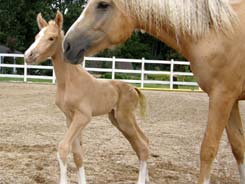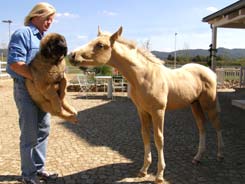 We were particularly excited about this stallion foal because we find his father *Gabriel's Image so astonishing. His owner Tomas Wolf would keep him and edjucate by himself.
We hope that *Aragon will grow to be a large horse due to the fact that both of his parents are very large. That being said the first day we saw him he already looked like a bodybuilder.
From his muscular body and friendly mixed appearance we are hoping for him to develop into a very nice looking stallion for breeding.