*WWW KATRINA
Registr:ABC 3620
Sire:*DCC Drifter
Dam:*Kiowa Beauty
Foaled:12. Mai 2005
Color:Sorrel
Height:150 cm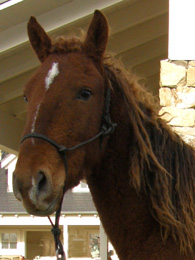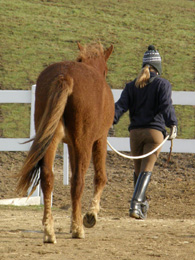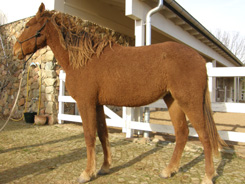 This micro-curl mare is for sale!
She can be covered if so wished. In October she will receive a higher appraisal by being recorded in Breeder book 1.
*WWW Katrina was imported with her sister *WWW Princess Dia- mond T by Dr. Andrea Hempel from the USA in the spring of 2007. They are both gaited horses, which mean that from birth on they learned walk, trot, and gallop as well as other paces which are genetic.
The tolt is extremely comfortable for the
rider to sit because the rider is basically free of vibrations through the movements of the horse. Because of this reason we see *Kat- rina as the perfect horse for people with back problems. It can be assumed that she will become a reliable, brave riding horse.
She posses a harmonic build with a lot of little curls; also known as micro curls; and a faithful look to emphasize her character. This is
a curly horse that would love to be cuddled all the time. Little per- sonality with a big heart and great potential.